Welcome to Carlsbad Village Dentistry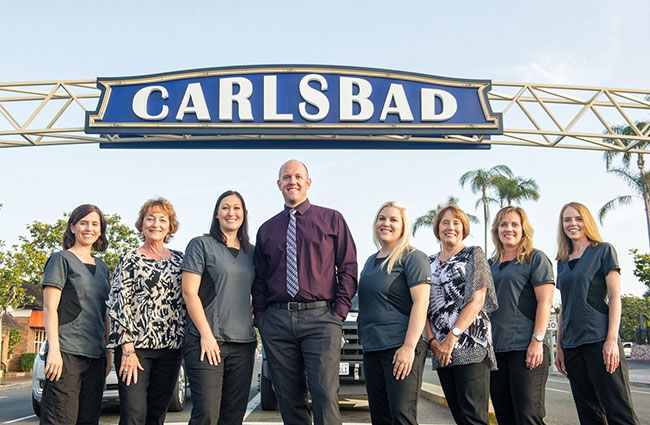 Our Carlsbad dental office will provide you with the absolute best dental experience possible, from your initial phone call, through your active care, to your ongoing supportive maintenance. We truly believe in our motto, "Where New Patients Become Regular Patients", and strive for that excellence of service each day. We treat you like a member of the family.
We will help you with coordinating whatever insurance benefits you might enjoy and apply this benefit for you if applicable. Our office is very knowledgeable in this regard and can help you by billing electronically for you. We also work with a number of companies that can help you stretch your costs over time with little or no interest to allow you to have that smile you have always dreamed of or take care of that immediate problem you may have.
All our professionals at Carlsbad Village Dentistry maintain the highest levels of accreditation and pursue ongoing education to stay abreast of the latest trends in dentistry.
Mission Statement
Our practice is working together to realize a shared vision of uncompromising excellence in dentistry.
To fulfill this mission, we are committed to:
Listening to those we are privileged to serve.
Earn the trust and respect of patients, profession and community.
Exceed your expectations.
Ensure a creative, challenging and compassionate professional environment.
Strive for continuous improvement at all levels.
Dedicated to exceptional customer service.
Relaxed Family Practice.
Dr. Dudzik is the only dentist you will see.
Experienced and attentive staff.
95% of our New Patients are invited to the practice by current patients.
We Love Kids! Dr. Dudzik worked in pediatric clinics.
Nitrous Oxide available for your comfort. Bring your IPod!
Honestly, integrity, compassion and commitment.
Monday:

08:00 AM - 03:00 PM

Tuesday:

08:00 AM - 05:00 PM

Wednesday:

08:00 AM - 05:00 PM

Thursday:

07:00 AM - 02:30 PM
For more information about our Carlsbad and Oceanside dental practice, call (760) 434-3103 today!