Restorative Services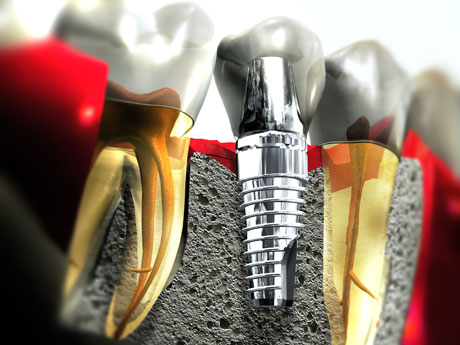 Now patients who are missing teeth have a strong, beautiful alternative to bridges, partials, or full dentures. Dental implants will improve your smile and your lifestyle. They look, feel, and function like natural teeth because of a titanium anchor attached to the jawbone. Implants can also anchor bridges, partials, or full dentures to eliminate slipping.
After a thorough evaluation, Dr. Dudzik will be able to tell if you're a candidate for dental implants. The process first starts with oral surgery to implant a titanium post for the teeth that are missing. After some time, nature will take its course and your bone tissue will fuse with the titanium post. This creates a solid foundation.
Once the implants are secured, Dr. Dudzik will attach a handcrafted, permanent crown to each post. The restorations will match your natural teeth and blend seamlessly with your smile.
By imitating an entire natural tooth, from the root up, dental implants offer a prosthetic that closely mimics nature. The result? Dental implant patients enjoy restored function, which allows a healthy diet of hard-to-chew foods. Speech may also improve. Strong and secure, your new smile will boost your confidence, enhance your appearance, and improve your quality of life.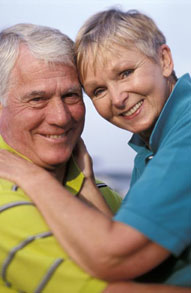 A denture is a removable replacement for missing teeth and adjacent tissues. It is made of acrylic resin, sometimes in combination with various metals.
Complete dentures replace all the teeth, while a partial denture fills in the spaces created by missing teeth and prevents other teeth from changing position.
Candidates for complete dentures have lost most or all of their teeth. A partial denture is suitable for those who have some natural teeth remaining. A denture improves chewing ability and speech, and provides support for facial muscles. It will greatly enhance the facial appearance and smile.
Complete or full dentures are made when all of your natural teeth are missing. You can have a full denture on your upper or lower jaw, or both.
Complete dentures are called "conventional" or "immediate" according to when they are made and when they are inserted into the mouth. Immediate dentures are inserted immediately after the removal of the remaining teeth. To make this possible, the dentist takes measurements and makes the models of the patients upper and lower jaw during a preliminary visit.
An advantage of immediate dentures is that you wont be without teeth while healing. However, bones and gums can shrink during this time, especially in the first six months after the removal of teeth. When gums shrink, immediate dentures may need to have rebasing or relining to fit properly. A conventional denture can then be made once the tissues have healed. Healing may take at least 6-8 weeks.
Partial dentures are often a solution when several teeth are missing. These partial dentures are made of pink or gum-colored plastic bases with the replacement teeth attached. This type of denture attach to your natural teeth with metal clasps or nearly invisible precision attachments.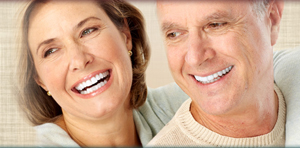 If you've spent a long time living with mouth pain or feeling insecure about some missing teeth, isn't it time to make a change? Full mouth reconstruction will not only help you feel better about how you look, it will also improve your dental health. That's because full mouth reconstruction doesn't just replace missing or broken teeth. It also restores the function of your jaw and gums, the supporting structure of your mouth. The end result is a mouth that looks and works the way you need it to!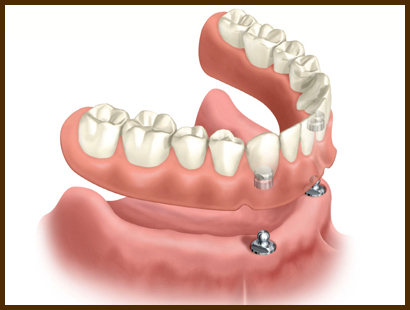 An overdenture is a removable denture that fits over a small number of remaining natural teeth or implants. The natural teeth must be prepared to provide stability and support for the denture.
Poor fitting dentures are often held in by using adhesives. Overdentures utilize dental implants, so they are more stable than adhesives. Improved stability allows you to chew food more thoroughly, helping your stomach break down food more efficiently, and absorb more nutrients.
When your overdenture is retained with implants it fits more securely than one held in with only adhesives. This fit also increases the stability of the overdenture reducing or even eliminating, unnecessary movement during chewing and talking. This lessens the instances of sores and embarrassing dislodgement.